---
---
---
For technical data and articles regarding lenses and cameras click here.
Camren offers Senor Cleaning for APS-C sized and full frame sensors of Digital SLR's. Click here for more data
Our Rental Catalog is available for download here as a pdf

---
---
EQUIPMENT FOR SALE HIGHLIGHTS (Come in or call for more information)
Canon EOS 30D USED
8 Megapixel
30 Day Warranty
$799.99 price reduced
Nikon D2X
12 megapixel
30 Day Warranty
$1699.99 price reduced
Fuji S3 Pro
12.34 megapixel
30 Day Warranty
$799.00 price reduced
Nikon D2H
4.1 megapixel
30 Day Warranty
$799.00 price reduced
Mamiya Pro TL
With Power winder, original box,
manual, and 120 back.
$699.99 price reduced
LENSES
Nikkor AF 24-120 F/3.5-4.5 $199.99
Nikkor AF 24-85 F/3.5-4.5 $149.99
Nikkor AF 80-200 F/2.8 $649.99
Hasselblad 150mm F/4 $300.00
Hasselblad 50mm F/4 $500.00
Mamiya RZ67 90mm F/3.5 $505.00
ETC..

Nikon SB 28 Speedlite $125.00
Mamiya 120 RB67 back $50.00
Come and see our back room showcase for prices on background equipment, sand-bags, stands, and other things you might need.
Click here for a map to our location at 1340 West Byers Place.
---
Click photo above to see Vincet Laforet 's video test of the 5D mk II.
VIDEO THROUGH THE DIGITAL SLR

The March/April Digital Photo Pro magazine contains a great article discussing the onset of video technology in the digital SLR. For the first time, standard and HD video are available to the still photographer, offering a new form of vision and technique. There are those who are excited about this tool and others who could care less. Regardless, both cameras and photography have come down a long road, rich with imagery and change. Who would've thought a Nikon F2's predessor would not only be film-less, but also capable of filming motion pictures? The following is an excerpt from the article written by Adam Crawford and Dave Willis, with Mike Stenvold.
Straight To Video
Whether you're shooting video for online newspapers, designing behind-the-scenes promotional work for your website or making a music or wedding video at the same time that you're shooting stills, a D-SLR that's capable of capturing HD video offers new opportunities for the professional photographer. Video makes photography more versatile and, ultimately, valuable, and it's now available at essentially no extra cost with the Canon EOS 5D Mark II and Nikon D90.

Video in D-SLRs is an extension of an already familiar concept, Live View, which was first introduced to the market in 2006. D-SLR technology has since advanced to where data can be captured and passed along to the image sensor quickly enough to provide smooth HD video quality. In the case of the Canon EOS 5D Mark II, a new 21.1-megapixel, full-frame CMOS image sensor outputs image data at high speeds to the DIGIC 4 processor, more powerful than its predecessor, so it can process the information quickly enough to churn out 1920x1080-resolution HD video at 30 fps.

"When the EOS 5D Mark II is set to capture full HD video during Live View," explains Lisette Ranga, Programs Marketing Specialist at Canon, "raw image data from the camera's 21.1-megapixel CMOS image sensor is output to the camera's DIGIC 4 image processor at a rate of 30 frames per second. DIGIC 4 converts the raw data to a full-resolution RGB image, crops the top and bottom of the frame to change the aspect ratio from 3:2 to 16:9, then downsamples it to 1920x1080 pixels and compresses it using a version of the H.264 codec. The resulting image data is combined with audio data when enabled and finally written to a .MOV file."

In the Nikon D90, a 12.3-megapixel, DX-format CMOS sensor provides high-speed, multi-channel readout directly into the EXPEED image-processing pipeline, and the live data stream is recorded and saved to an SD/SDHC memory card. When asked why video capture is comparatively late to the show since Live View has existed in the market for quite some time, Lindsay Silverman, Senior Technical Manager at Nikon, points out that the careful coordination of mirror movement and Live View video recording is a challenge to manufacture, especially when considering that photographers use their cameras differently than camcorder shooters.
"Because the D90 is an SLR that incorporates a mirror for viewing through-the-lens using an optical viewfinder," says Silverman, "when Live View is engaged, the mirror swings up into a locked position, exposing the image sensor continuously to the light coming through the lens. For still image photography, the mirror must be briefly lowered before a picture is taken. This allows for auto exposure, auto white balance and, when applicable, Speedlight pre-flashes, to be performed after the mirror is lowered and just before the picture is taken. Then the mirror quickly returns to the up position after the image has been made and Live View resumes. When in D-movie recording mode, the mirror stays in the up position for the duration of the movie clip recording and the rear LCD is used for viewing the scene as it's being recorded."

The Canon EOS 5D Mark II's image sensor features a piezoelectric element to eliminate dust. While it's certainly an annoyance in still images, dust can be a devastating problem in video. The piezoelectric element activates any time the camera is turned on; you also can access it from the menu. The EOS 5D Mark II has a 21.1-megapixel, full-frame CMOS sensor, which includes the best image quality in the EOS D-SLR class, a self-cleaning sensor unit (the 5D did not), fast operation, a 3.0-inch, 920,000-dot LCD monitor, ISOs up to 25,600 and the ability to shoot 1920x1080p full HD video with mono or stereo sound (via a third-party external microphone).

The EOS 5D Mark II can shoot video at 30 fps in either 1920x1080-pixel full HD or SD video with a resolution of 640x480 pixels. The camera is limited in full HD video shooting time to 4 GB, or about 12 minutes. Canon recommends manual focus for video capture because autofocus is slow with video and could possibly defocus while shooting.

While shooting in video mode, you can adjust Picture Styles, white balance, AE lock, exposure compensation, peripheral illumination (vignetting) correction, Auto Lighting Optimizer and Highlight Tone Priority. Exposure mode is programmed AE; metering (via the image sensor) is center-weighted average. HD movies have a 16:9 aspect ratio, SD movies 4:3 and still images 3:2. The 3:2-ratio LCD monitor is letterboxed by a semi-transparent border in the appropriate aspect ratio during video shooting.
While these two D-SLRs aren't meant to compete with the robust features of a dedicated camcorder, they offer a number of advantages. From a design perspective, there isn't much difference between designing a sensor for a D-SLR and a camcorder, but D-SLRs use larger image sensors than camcorders, and for that reason individual pixels are much larger. Bigger pixels on bigger sensors provide better image quality, as well as a higher ISO range, lower noise, better dynamic range and better performance in low-light situations. In effect, you're getting video with bigger and better image sensors.

"D-SLRs produce a still image that will be examined by its amount of sharpness, color fidelity, white balance, and its ability to be enlarged either for hanging on a wall or for printed reproduction," says Silverman. "Camcorder images, which are a continuous capture of many frames, are usually viewed on a monitor or on an HDTV where the resolution is somewhat lower and more forgiving than high-resolution still images from a D-SLR. Camcorder images aren't usually scrutinized in the same way that a still image is."

For larger, more responsive sensors, quality optics are a requirement. D-SLR lenses are heavier when compared relative to camcorder lenses, but they're more precise. Larger sensors provide shallower depth of field that's unobtainable without expensive specialty add-ons in a camcorder. This allows for effective selective-focus photography, keeping the viewer's attention on the subject, not to mention the creative options provided by a wide range of excellently designed lenses, including fish-eye, wide, telephoto, macro and even tilt-shift/perspective control, often found with built-in image stabilization.

"Relatively large imaging formats, such as the 24x36mm image sensor used by the EOS 5D Mark II," explains Ranga, "require lenses that can project an image circle at least 43.2mm in diameter, whereas smaller imaging formats, such as the types used in today's camcorders, typically require an image circle of 7mm or less. As a result, there are huge differences in lens design related to this specification. Smaller imaging formats also require shorter lens focal lengths to match the angle of view of larger imaging formats; for example, a 9mm lens on some camcorders has approximately the same angle of view as a 50mm lens on the EOS 5D Mark II. If photos are taken with both cameras from the same distance and at the same aperture, then depth of field will be shallower on the EOS 5D Mark II because of the longer focal length. Therefore, at any given combination of angle of view and aperture, the EOS 5D Mark II's 24x36mm imaging format creates a shallower depth of field that smaller imaging formats can't duplicate."

Camcorders offer a host of features made specifically with videographers in mind. For instance, camcorders often provide a variety of frame rates for quickening motion, slow motion and other effects. The Nikon D90 offers 24 fps and the Canon EOS 5D Mark II uses 30 fps. Perhaps the greatest limitation with video on current D-SLRs is the length of time that they're able to record video. The D90 offers up to five minutes of 1280x720 (at the 16:9 aspect ratio) and up to 20 minutes at standard 640x424 or 320x216 (both at the 3:2 aspect ratio). The EOS 5D Mark II captures to CF cards, whose file format limits the size of a video clip to 4 GB, about 12 minutes of full HD.

There are other limitations. While taking video, the D90 and EOS 5D Mark II both use contrast-based autofocus, which is much slower than the autofocusing systems designed for still photography. In the D90's video mode, autofocus ceases entirely once the focus has been set and recording begins, though manual focus is still possible. There are limited sound capabilities, as well. Both cameras offer a built-in monaural microphone, though the EOS 5D Mark II also offers a 3.5mm stereo miniplug jack.

Which isn't to say that these D-SLRs don't offer photographers an opportunity for recording excellent video that can be used for supplemental material. Even professional videographers are getting a much more portable solution that also provides great image quality and effective still images.

Click here to visit the Digital Photo Pro website and view details about the article.
---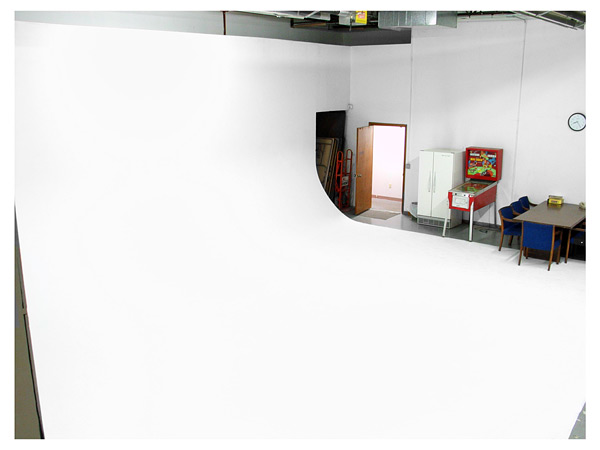 One of Camren Photographic's largest resourses for the professional photographer is our 1600 square foot cyclorama studio. For more information about the studio here, click the following link: Studio C.
---
Tamron to release new 15x lens. Check out details here.
Sigma CEO and founder, Mr. Michihiro Yamaki, honored with IPC (International Photographic Council) Hall of Fame award. Yamaki founded Sigma in 1961.
IPC is a non-governmental organization of the United Nations. Click here for IPC.
Alien Skin software produces lens bokeh emulator called Bokeh. Click here for more details.
Hasselblad releases the H3DII-50, a 50 megapixel and 4th generation addition to the H-series system. It utilizes Kodak's newest 36x48mm sensor and has an ISO range from 50 through 400, with an expandable 800 ISO option with the use of Phocus software. All Hasselblad lenses accepted. Click here for more info.
Hasselblad also releases the HTS 1.5 adapter which allows tilt, shift, and rotation to the HCD 28mm, 35mm, 50mm, and 80mm lenses.
Nikon announces the AF-S G DX 35mm f/1.8 prime which will enable the photographer to produce images of a similar field of vision and perspective to that of the human eye. After focal factor on DX sized sensors, this lens will be the equivalency to the film format classic 50mm. Click here for info.
Hoya releases a circular polarizer with 25% greater light transmission. Through an 8 layer multi coating process this new polarizer will help keep exposures in the Zone I and II from blocking u0p and blending with max black. Click here for product info.
AcmeMade creates photo bag disguised as a bowling bag. Click here for more info.
Lightpanels introduces the Micro, an LED continuous light source that attaches to the hotshoe. Designed to offer real-time lighting to both the still image and the motion picutre. Visit DPReview for threads.
DPMA releases "Monthly Printing and Camera Trends." This report shows global camera sals are down 16.4% and print orders are up 30%. Visit PMA's Media Room.
Precision Camera PMA encouraging camera repair and not replacement. Visit their site for details.
---
Canon EOS 5D
USED
12.8 Megapixel $1899.00
Includes BG-E4 Grip and 30 Day Parts and Labor Warranty
PRICE REDUCED
Nikkor AF 80-200 f/2.8 ED
USED
$799.99
PRICE REDUCED
Nikon F2 Photomic
Includes DP-1 prism
USED
$229.00
EXCELLENT SHAPE
---
---