---
---
---
For technical data and articles regarding lenses and cameras click here.
Camren offers Senor Cleaning for APS-C sized and full frame sensors of Digital SLR's. Click here for more data
Our Rental Catalog is available for download here as a pdf, or click the image below to view the HTML version.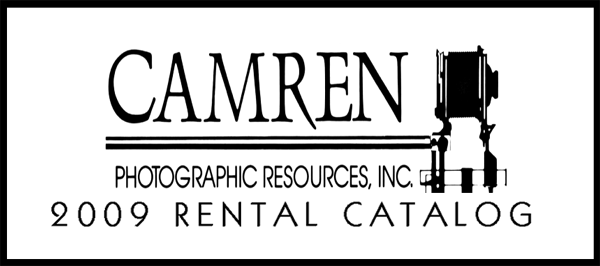 ---
---
EQUIPMENT FOR SALE HIGHLIGHTS (Come in or call for more information)
Canon EOS 1D III USED
10 Megapixel
30 Day Warranty
$2399.99
Canon EOS 1Ds II USED
16 Megapixel
30 Day Warranty
$2299.99
Canon EOS 40D USED
10 Megapixel
30 Day Warranty
$799.99 price reduced
Canon EOS 30D USED
8 Megapixel
30 Day Warranty
$699.99 price reduced
Canon Digital Rebel XT USED
8 Megapixel
30 Day Warranty
$249.99 price reduced
Mamiya Pro TL USED
With Power winder, original box,
manual, and 120 back.
$699.99 price reduced
LENSES
Tokina (N)70-210mm f/4-5.6 $100.00
Tamron 28-300 Adaptall $39.99
Tamron 28-70 Adaptall $39.99
Tamron 70-210 Adaptall $29.99
Bronica 150mm f/3.5 $150.00
Hasselblad 150mm f/4 $300.00
Mamiya RZ67 90mm f/3.5 $505.00
Mamiya RB67 250mm f/4.5 $249.95
Mamiya RB67 140mm f/4.5 $249.95
Mamiya RB67 127 f/3.8 $199.99
Pentax 6x7 200mm f/4 $149.99
Pentax 6x7 135mm f/4 $199.99
Pentax 6x7 600mm f/4 $1999.99
Nikon 50mm F/2 AI $49.95
Nikon 35 f/2.8 AI-S $99.99
Nikon 35-70 f/3.5-4.5 $149.99
Nikon 50mm f/1.8 E AI-S $69.95
Nikon 105 f/2.5 AI-S $149.99
ETC..
Mamiya 120 RB67 back $50.00
Bronica 220 back $30.00
Bronica Polaroid Back $50.00
Previously Viewed Photo Insturction Videos $5/each
Come and see our back room showcase for prices on background equipment, sand-bags, stands, and other things you might need.
Click here for a map to our location at 1340 West Byers Place.
---
Selective color and black and white photography has a certain allure in the early months of Colorado. As the winter light fades and the sun begins it return so does the photographers desire to explore. Until the green of the spring returns the monochromatic image has a certain allure and the selective color process of channel mixing is an excellent way to achieve the best monochrome conversion. The channel mixer tool inside photoshop allows the photographer to take color information and change it to grayscale information. This sounds easy, but this conversion requires some finesse. The easiest way to get a black and white image is simply to desaturate the image, i.e., remove the color, but provides no contrast control. In Part One of this pair of articles the selective color tool was used to remove certain colors for artistic effect. Last month served as a good practice model for creatively removing selected colors for effect. In Part Two the color is going to be removed and converted specifically to change the contrast of the black and white photograph. Using the process of channel mixing, the existing color information will be converted to grayscale, but based on the color's original tone.


Click the image above to see visuals of this technique. The Channel Mixer tool will offer a way to create more interesting and dramatic images. Remember, begin with a full color image and think about what contrast the image needs. A monochromatic image consists of black and white and the shades of gray in between. The question of contrast has to do with how much gray exists between the two extremes. For instance, Channel Mixer can make a low contrast color image into a higher contrast black and white. When thinking about contrast ask yourself, "Does the contrast need to be increased or decreased? Do the reds need to become light when in gray-tone or do they need to become dark? Does the sky need to become darker?"

To start, click on "Image" then Channel Mixer. To keep things simple remember that even though a photo presents many colors the actual photograph consists of three primary colors; that of red, blue, and green. These three colors comprise the volume of the adjustable color, so changing these particular colors will have the most pronounced effect on the image. There are three other colors; those of cyan, magenta, and yellow. These colors can also be adjusted to fine tune the final result, but the three major colors are the ones that will show the most drastic change. Red, green, and blue are the colors to focus on in order to alter the image's black and white look.

At this point, the Channel Mixer control should be open, preview should be checked, and monochrome should also be checked. In the edit drop-down area "Gray" is now the only option. There are two examples of Amazing Fell Tree. One of the examples shows the ground bright and the trunk dark. The other is an inversion of that, depicting the ground as dark and the tree as bright. These represent the two opposite approaches to mixing the channels. Now this process used to be done in camera and using filters of an extreme color that will change the contrast of the black and white film. Two questions are to be asked of yourself in doing this: do I lighten the warm colors of the scene and darken the cold ones? Or do I lighten the cold colors and darken the warm ones? If this were done in camera and we chose to do the first (lighten the cold colors) a cold colored filter would be used. If the second is chosen (darken the cold colors) a warm filter would be used. So, to darken the blue of the sky, a red, orange, or yellow filter would be used. To make a green apple appear white a green or blue filter would be used. This choice is important at this stage.

The first example shows the image in the simplest of black and white conversion; the aforementioned desaturation. There are many shades of gray present, so the tonality is full, but is low in contrast and low in key. Low key means the image is predominately dark. High key means the image is predominately bright. The exposure is accurate because there is no highlight blow out, however a little detail was lost in the background due to the lack of color. Nothing really stands out as the main subject and critically this version appears rather flat and dark.

The second example of the Amazing Fell Tree expresses its tonality with a severe adjustment to the image's warm color information. The example shows a 150% decrease of blue, a 185% increase in red, and a 85% increase in green. This is the equivalent of adding a red filter, which darkens the cold colors and lightens the warms. All the blues of the original color image are now blackened and any warm areas, such as the yellow of the grass, are now brightened. This is not an appropriate effect because now the tree is simply too dark and now the grass, a supporting subject, is now brighter than the primary subject. This contrast control is not going in the right direction for Amazing Fell Tree, but this channel mixing approach is useful for other future images.

The third example of Amazing Fell Tree shows a different contrast control option that keeps the tree brighter than the ground and back ground, which is certainly more appropriate. This contrast result is the equivalent of using a green filter which would lighten cold colors and darken warm ones. In this case the blue of the tree was lightened. The settings are like that of using a green or blue filter. The Channel Mixer settings show a 200% decrease of red information, an increase of 135% of green, and a 165% increase of blue. The major change occurs due to the near omission of all the red information and a heavy addition of blue. The green change was the controller change and allows for fine tuning of the contrast. Generally, change two major colors and then use the third to finesse the image's contrast needs.


The final example shows what the final adjustments would look like in full color if "monochrome" was turned off. Oddly, it shows a red tree and green grass. The original picture shows a blue tree with yellow grass. Interesting to think that in lightening the blue tree using channel mixer what happened was a great deal of red was added to the equation. The blue and the red cancelled one another out and voila; a bright tree with bright roots, a rich and dark ground, and a little more information in the forest. A vast improvement brought to you by Camren and the Channel Mixer.
Not only does Camren rent high-end Canon equipment, we are also a Canon Authorized Dealer. Camren is also a dealer for other photographic companies. If you are looking to purchase Canon digital SLR cameras, lenses, flashes, or other accessories please give us a shout. We are competitive in both pricing and support.

We currently have in stock The Eos 5D Mark II camera, Eos 7D camera, and the 580 EX II flash. Call or stop by for more information.

---
Canon is releasing a new firmware 2.0.3 update to enhance video and audio capibilty. Check it out here.
Digital Pro Photo announces their winners for their Arot of Photography. The gallery can be viewed by clicking here.
Adobe releases the beta form of Lightroom. Click here for more info.
Nikonians releases their academy course offerings for the beginning of the 2010 year. Click here for more details.
Apple has yet to release the iPad, but the gadget promises to be a studio photographer's must have. More information here.
Lexar is improving their fast card selection. Click here for the 411.
From the Ashes is an article published in the Fall 2009 PhotoMedia. All photographers should read this article. Either come by and pick up your complementary copy (while they last) or click here for details.
Vivitar is back in the photo game. Click here for more.
Apple, Panasonic, WalMart, & Radio Shack are companies helping Haiti. Click here for details.
Fujifilm USA is working with Homes For Our Troops (HFOT), a non-profit that builds specially adapted homes for injured vets. Click here for details.
Canon rates in the top 5 for patents made in 2009. Click here for details.
Sigma announces student scholarship. Click here for details.
Nikon takes the innovation spotlight (click here) and donates camera tutorials to the UN in honor of the IPC mission of "peace through understanding, understanding through photography, the universal language." Click here for details.
---
Canon
EOS 7D
NEW & IN STOCK
18 Megapixel
$1699.99
(Lens not included). $100.00 CANON INSTANT REBATE
Canon EOS 5D Mark II
w/ 24-105 IS L Lens
NEW & IN STOCK
21 Megapixel
$3499.99
***************************
Canon EOS 5D Mark II
(Body Only).
NEW & IN STOCK
21 Megapixel
$2599.99
Norman 400B
USED
$699.99
w/ Super Charger version 2, LH52K Lamphead w/ 5" reflector, (2) batteries, charing cord, power cord, and strap.
---
---