---
---
---
For technical data and articles regarding lenses and cameras click here.
Camren offers Senor Cleaning for APS-C sized and full frame sensors of Digital SLR's. Click here for more data
Our Rental Catalog is available for download here as a pdf, or click the image below to view the HTML version.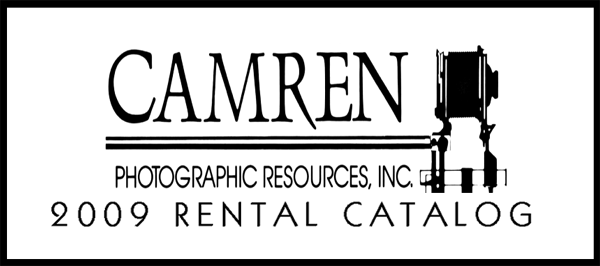 ---
---
EQUIPMENT FOR SALE HIGHLIGHTS (Come in or call for more information)
Canon EOS 1D III USED
10 Megapixel
30 Day Warranty
$2399.99
Canon EOS 1Ds II USED
16 Megapixel
30 Day Warranty
$2299.99
Canon EOS 40D USED
10 Megapixel
30 Day Warranty
$899.99 price reduced
Canon EOS 30D USED
8 Megapixel
30 Day Warranty
$699.99 price reduced
Mamiya Pro TL USED
With Power winder, original box,
manual, and 120 back.
$699.99 price reduced
LENSES
Tokina (N)70-210mm f/4-5.6 $100.00
Tamron 28-300 Adaptall $39.99
Tamron 28-70 Adaptall $39.99
Tamron 70-210 Adaptall $29.99
Bronica 150mm f/3.5 $150.00
Hasselblad 150mm f/4 $300.00
Mamiya RZ67 90mm f/3.5 $505.00
Pentax 6x7 200mm f/4 $149.99
Pentax 6x7 135mm f/4 $199.99
Pentax 6x7 600mm f/4 $1999.99
ETC..
Mamiya 120 RB67 back $50.00
Bronica 220 back $30.00
Bronica Polaroid Back $50.00
Previously Viewed Photo Insturction Videos $5/each
Come and see our back room showcase for prices on background equipment, sand-bags, stands, and other things you might need.
Click here for a map to our location at 1340 West Byers Place.
---
Selective color and black and white photography has a certain allure in the early months of Colorado. Everyday simply presents excellent opportunities to allow the photographer to explore the selective color and monochrome image types. Low lying clouds and near cobalt skies help create tones in color that will translate beautifully into a selective color photograph or black and white imagery. This article is Part One to a pair of articles on the topic of color subtraction. Color information can be adjusted so the image will turn into a selected color or monochromatic (pure black and white) image. This month is not as much about shooting in monochrome as it is a practice model for selective filtration of color to either keep or totally remove colors. Next month we will discuss that an understanding of colors will effect and enhance the desired contrast of a final black and white photograph. Each process will use similar techniques, but differing tools.


A monochrome image is a photograph (or work of art) that contains only a single color and its tones. In photography this is generally a black and white image, but sepia and selenium toned images are also considered monochromatic. A polychrome image is a photo (or image) that contains more than one color and their tones. Monochrome, for instance, is not necessarily black and white and the shades of gray in between. Picasso had a "blue-period" where he primarily used paint of a blue color, which created a certain mood. A final color photograph could be made in a similar fashion with the addition of an overwhelming amount of blue and be considered monochromatic. Sepia toning a photograph is achieved by adding a tint of red and yellow and is also monochromatic. With color photography, the image starts off polychromatic. Inherently, there are many colors to a color photograph, however, individual colors can simply be added or subtracted, muted or saturated, and lightened or darkened. Here, we will begin with a Photoshop tool that will allow the photographer to begin subtracting entire separate colors and is called the Hue/Saturation image adjustment.


Click the image above to see visuals of this technique. The Hue/Saturation tool will offer a way to create more interesting and dramatic images. Remember, begin with a full color image and think about what colors could be subtracted. Click on "Image" then Hue/Saturation. You may see an option for "Selective Color," which allows for this selective coloration to happen, but in a more complex way. To keep things simple also remember that even though a photo presents many colors the actual photograph consists of three primary colors; that of red, blue, and green. These three colors comprise the volume of the adjustable color, so changing these particular colors will have the most pronounced effect on the image. There are three other colors; those of cyan, magenta, and yellow. These colors can also be adjusted to fine tune the final result, but the three major colors are the ones that will show the most drastic change.


At this point, the Hue/Saturation control should be open, preview should be checked, and master should appear in the edit drop-down area. Click this drop-down and choose a color channel you want to get rid of. That color will be desaturated. One of the examples of the Bird of a Wire expresses its color with only the red wire remaining, though the original shows both blue and red wires. This was achieved by removing, or desaturating, both the green and the blue channels by one-hundred percent. This selective color effect is very straight-forward. Then, with only the red channel remaining a further adjustment was done; a twenty-five percent increase of saturation was added to the red channel. Now, boosting the saturation of a color can promote pixelization, so an increase of twenty to fifty percent and no higher is recommended.


This technique is also beneficial with noise reduction. Generally, color noise from long exposures or high ISO photograph occurs in the green, magenta, or cyan color channels. Try removing fifty percent of one of the green, magenta, or cyan channels and see if troublesome noise is reduced. This application also helps encourage for surface detail to remain, rather than become sacrificed during other types of noise reduction. If you are having trouble with a particular color, try separating it from the entire set of colors. For instance, want to lighten a yellow wall because it is too bold and the rest of the colors are lighter? Take the yellow channel and either lighten it or desaturate it a bit and the rest of the colors will remain close to their original state. Keep in mind that all the colors that include any amount of yellow will also be naturally effected.


The other place to attempt this technique is the image adjustment called Selective Color. This adjustment is more complicated because you can not only separate one color from the rest and adjust the lightness and saturation of that color, but also change its tint and shade. In other words, the Selective Color tool allows for a particular color's combination of red, green, and blue to be completely changed. A yellow-red can be changed into an orange-red. Blue-violet can be changed into red-violet. With more experience, Selective Color may become your go-to tool for these effect, however, Hue/Saturaion offers a simpler fashion. Rather than adjust the saturation of a particular color, the hue can be changed. So, if you are having any kind of trouble with a particular color or just want to be more creative, as the saying goes, "divide and conquer." Separate the colors into their parts and see if there is some problem solving power or creative potential the Hue/Saturation tool can provide. Next month these selective color concepts will continue into applications with black and white images using the Channel Mixer tool.

Not only does Camren rent high-end Canon equipment, we are also a Canon Authorized Dealer. Camren is also a dealer for other photographic companies. If you are looking to purchase Canon digital SLR cameras, lenses, flashes, or other accessories please give us a shout. We are competitive in both pricing and support.

We currently have in stock The Eos 5D Mark II camera, Eos 7D camera, and the 580 EX II flash. Call or stop by for more information.

---
BigShot introduces a build-it-yourself camera designed to help children learn and use photography. "The BigShot kit will expose children to fundamental concepts in optics, mechanics, electromagnetism, electronics, image processing, and the physiology of the human eye," the researchers [at Columbia University] explain, "to also draw them toward further learning in math and science." Check it out here.
Nikonians announces their photographic Best of 2009 finalists. The gallery can be viewed by clicking here.
Adobe releases the beta form of Lightroom. Click here for more info.
Nikonians releases their academy course offerings for the beginning of the 2010 year. Click here for more details.
Kodak released a new line of digital cameras that depart from their typical models. More information here.
Lexar is improving their fast card selection. Click here for the 411.
From the Ashes is an article published in the Fall 2009 PhotoMedia. All photographers should read this article. Either come by and pick up your complementary copy (while they last) or click here for details.
Vivitar is back in the photo game. Click here for more.
Apple, Panasonic, WalMart, & Radio Shack are companies helping Haiti. Click here for details.
Digital Photo Pro announces the winners of their Art of Photography photo contest. click here to view the winners.
Fujifilm USA is working with Homes For Our Troops (HFOT), a non-profit that builds specially adapted homes for injured vets. Click here for details.
7th Lucie Awards honor photographers for their contributions and achievments. Rolling Stone photographer Mark Seliger is among the honorees. Click here for details.
Sigma announces student scholarship. Click here for details.
Nikon takes the innovation spotlight (click here) and donates camera tutorials to the UN in honor of the IPC mission of "peace through understanding, understanding through photography, the universal language." Click here for details.
---
Canon
EOS 7D
NEW & IN STOCK
18 Megapixel
$1699.99
(Lens not included).
Canon EOS 5D Mark II
NEW & IN STOCK
21 Megapixel
$2599.99
(Lens not included).
Norman 400B
USED
$699.99
w/ Super Charger version 2, LH52K Lamphead w/ 5" reflector, (2) batteries, charing cord, power cord, and strap.
---
---
"Shades of Ansel," from the November, 2009 Smithsonian Magazine, served as inspiration for this month's newsletter and is available online by clicking the picture below.