Camren Photographic Resources
JANUARY 2010

*H a p p y N e w Y e a r*
Welcome to the Year of the Tiger
---
---
---
For technical data and articles regarding lenses and cameras click here.
Camren offers Senor Cleaning for APS-C sized and full frame sensors of Digital SLR's. Click here for more data
Our Rental Catalog is available for download here as a pdf, or click the image below to view the HTML version.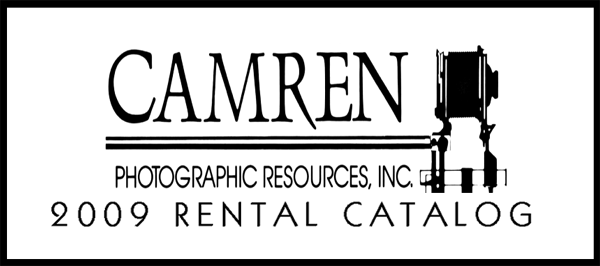 ---
---
EQUIPMENT FOR SALE HIGHLIGHTS (Come in or call for more information)
Canon EOS 1Ds II USED
16 Megapixel
30 Day Warranty
$2299.99
Canon EOS 30D USED
8 Megapixel
30 Day Warranty
$599.99 price reduced
Fujifilm S5 Pro USED
12.34 Megapixel w/ Super CCD
30 Day Warranty
Accepts Nikon Lenses
$899.99 price reduced
Mamiya Pro TL USED
With Power winder, original box,
manual, and 120 back.
$699.99 price reduced
LENSES
Nikon 135mm f/2.8 $79.95
Tokina (N)70-210mm f/4-5.6 $100.00
Bronica 150mm F/3.5 $150.00
Hasselblad 150mm F/4 $300.00
Hasselblad 50mm F/4 $500.00
Mamiya RZ67 90mm F/3.5 $505.00
ETC..
Nikon SB 28 Speedlite $125.00
Mamiya 120 RB67 back $50.00
Bronica 220 back $30.00
Bronica Polaroid Back $50.00
Previously Viewed Photo Insturction Videos $5/each
Come and see our back room showcase for prices on background equipment, sand-bags, stands, and other things you might need.
Click here for a map to our location at 1340 West Byers Place.
---

DSLRs For Low Light
from the editors of Digital PhotoPro

The combination of improved sensors, advanced processing engines and powerful algorithms makes the current lineup of pro DSLRs capable of a whole new kind of low-light photography.
Low-light and action photographers have long fought the good battle with the shutter-speed/aperture/ISO monster: You need a fast enough shutter speed to capture the action (or to prevent camera shake in handheld low-light shots), a small enough aperture to provide the needed depth of field, and a low enough ISO to get good image quality. A quick look through the films selling at big photo dealers this morning reveals a fastest color-slide film of ISO 400, a fastest color-print film of ISO 1600 and a fastest black-and-white film of ISO 3200 (actually, ISO 1000; the EI rating indicates a "working" speed, not an official ISO speed).

Thanks to recent advances in sensor and image-processing technology, we now have DSLRs with low-noise, normal ISO settings of 12,800 and even 25,600, and two new models that provide expanded settings to an amazing 102,400. This means you no longer have to sweat the eternal trilogy: You can use a fast enough shutter speed and a small enough aperture and still get very good image quality. Of course, these technological advances also improve low-ISO image quality, so the newest-generation DSLRs can produce terrific image quality whatever your shooting needs. This means you can produce photos that not so long ago would have been impossible!

As a general rule, bigger pixels means better high-ISO performance (for example, Nikon's 12.1-megapixel, full-frame D3S, with 8.45-micron pixels, produces better high-ISO image quality than the 12.3-megapixel, DX-format D300S with its 5.5-micron pixels), but there's more to it than just pixel size. Sensor design considerations include such things as microlenses to give the photodiodes a more effective light-gathering area (newer microlenses are gapless and closer to the photodiodes to further enhance light-gathering ability and thus the signal-to-noise ratio), higher-transmission RGB filters over the photodiodes, better suppression of noise from off-sensor sources, and improved preamps. More powerful processors can handle more elaborate algorithms, resulting in better image quality and overall camera performance--while some manufacturers are a bit secretive about their processors, Canon states that its latest DIGIC 4 has six times the processing power of its DIGIC III—and the new EOS 7D and EOS-1D Mark IV each use two DIGIC 4s. Image processing also has improved, both in-camera for JPEGs and RAW converters for RAW images (particularly in terms of high-ISO and long-exposure noise reduction). All of these things combine to give many of today's DSLRs amazing high-ISO performance.

It should be noted that a given image sensor has an innate sensitivity to light--a "native ISO"--and both higher and lower settings are achieved by digital processing. The processing necessary to produce higher ISOs increases noise, while the processing necessary to reduce ISO reduces dynamic range. So best image quality is produced at the sensor's native ISO, which is generally the lowest one in the camera's "normal" ISO range. As with film, how high you can go on the ISO scale depends in part on your idea of sufficient image quality for a given image--and it's certainly wise to check out your camera's high-ISO performance before shooting an important job. That said, today's DSLRs produce much better image quality than film for any given ISO, as well as achieving ISOs not possible with film.


Digital offers advantages over film beyond far higher usable ISOs. First, with digital, you can easily set the ideal ISO for each image. That saves a lot of time and wasted film frames. Second, with digital, you can do a lot when processing RAW digital images to control noise, enhance dynamic range and color rendition, and adjust sharpening (it's a very good idea to shoot RAW when using high ISOs, even though in-camera, high-ISO noise reduction is applied only to JPEGs). Third, with digital, you can shoot high-contrast scenes using HDR techniques and get an amazing dynamic range. But most importantly to action and low-light shooters, the newest DSLRs allow you to get remarkably good image quality at ISO settings beyond the wildest dreams of film photographers.


While medium-format DSLRs [and digital backs] haven't been known for their high-ISO performance, even that's changing. Phase One's Sensor+ technology uses a clever twist on the "binning" technique to let you choose super-high resolution or high resolution with good high-ISO performance. For example, the P65+ model can shoot 60.5-megapixel images at ISOs from 50-800 or 15-megapixel images at ISOs from 200-3200. (Combining groups of four pixels into single "super-pixels" increases sensitivity and reduces noise; Phase One's method eliminates some of the problems of conventional binning techniques.) []
Click here to continue to the Digital Photo Pro website and view their camera results.
---
Canon Instant Rebates
on select Canon products.
October 22, 2009 through January 16, 2010
Camren is an authorized Canon dealer.
(click the image above for a listing of included products).
---
---
Not only does Camren rent high-end Canon equipment, we are also a Canon Authorized Dealer. Camren is also a dealer for other photographic companies. If you are looking to purchase Canon digital SLR cameras, lenses, flashes, or other accessories please give us a shout. We are competitive in both pricing and support.

We currently have in stock The Eos 5D Mark II camera, Eos 7D camera, and the 580 EX II flash. Call or stop by for more information.

---
BigShot introduces a build-it-yourself camera designed to help children learn and use photography. "The BigShot kit will expose children to fundamental concepts in optics, mechanics, electromagnetism, electronics, image processing, and the physiology of the human eye," the researchers [at Columbia University] explain, "to also draw them toward further learning in math and science." Check it out here.
FUJIFILM announces they are forming a North-American company called Fujifilm North America Corporation. Click here for details.
Lensbaby releases two new Optic Swap lenses with their 12mm fisheye and soft-focus lens. Click here for more info.
Nikonians releases their academy course offerings for the beginning of the 2010 year. Click here for more details.
Aaron Johnson (creator of "What the Duck," a cartoon about a duck who is a photographer) released a book and an interview from him through Photo.net is available here.
Noritsu aquires Lucidiom. Click here for the 411.
From the Ashes is an article published in the Fall 2009 PhotoMedia. All photographers should read this article. Either come by and pick up your complementary copy (while they last) or click here for details.
Mitsubisi is spreading HOPE, (Helping Other People Excel). Click here for more.
Samsung announces the new NX-10. Click here for details.
Digital Photo Pro announces the winners of their Art of Photography photo contest. click here to view the winners.
Fujifilm USA is working with Homes For Our Troops (HFOT), a non-profit that builds specially adapted homes for injured vets. Click here for details.
7th Lucie Awards honor photographers for their contributions and achievments. Rolling Stone photographer Mark Seliger is among the honorees. Click here for details.
Sigma announces student scholarship. Click here for details.
Nikon takes the innovation spotlight (click here) and donates camera tutorials to the UN in honor of the IPC mission of "peace through understanding, understanding through photography, the universal language." Click here for details.
---
Canon
EOS 7D
NEW & IN STOCK
18 Megapixel
$1699.99
(Lens not included).
Canon EOS 5D Mark II
NEW & IN STOCK
21 Megapixel
$2699.99
(Lens not included).
Norman 400B
USED
$699.99
w/ Super Charger version 2, LH52K Lamphead w/ 5" reflector, (2) batteries, charing cord, power cord, and strap.
---
---